The Vig Collection
Scanned images of the papers of Lars Einar Vig (pictured below), who kept extensive cross-referenced information on citizens of Washington County, Nebraska, from the days of early settlement into the mid-twentieth century. While there are portions devoted to the Danish settlers and immigrants, the documents cover all residents of Washington County. Records are derived from census documents, county court records, cemetery records, written and informal histories and local newspapers (with references to the publication and date of each article). Please note that these materials include the entire gamut of Einar's work from preliminary notes to 'final' lists. Not all are suitable for indexing. Additional parts of the collection (not listed on this page) are available under the Collections tab above.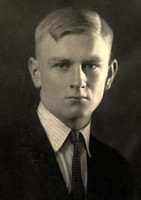 FAMILY DATA
-Pioneer Families (pre-1867)
-Washington County Families
-Washington County Families (Danes)
-Washington County Pioneers (alpha listing)
-Danes in Washington County Old Settlers

-Marriages (chronological)
-Death/Estate Notices (chronological)
CEMETERIES*
-Alphabetical Lists (by cemetery)
(Working versions - may have more information)
- Cemeteries & Churches in 1908 Washington County Atlas
- Blair Cemetery (by Block, Lot, Grave)
By Burial Date:
-Blair and Cuming City
-Other Cemeteries
-Chronological burial lists of Wash Co citizens in other NE county cemeteries
-Chronological burials in Washington County cemeteries (excluding Blair)
Burials in other Nebraska Cemeteries (of Wash Co residents)
Rose Hill Cemetery Notes and Burials (also see above)

OTHER
-Obituaries (Washington County)
-Township Histories
-Washington Co Stores
-Danish Brotherhood Society
-Danish Landowners & Farmers in Washington County to 1920
-Washington County GAR (Grand Army of the Republic)
-First Lutheran Church (Blair) Records
-Men & Women of Nebraska (1903), Washington County citizens indexed
-Men & Women of Nebraska (1903), Washington County - notes on citizens listed in the index (see above)
-1884 Washington County Landowners & Directory
-Territorial Pioneers Lists (alphabetical)
-Washington County Old Settlers by decade of arrival
-Deaths outside Washington County - Pioneers and Old Settlers - 1890s-1916/17
-Burials outside Washington County - Pioneers and Old Settlers - 1916-1958
-Burials outside Washington County by location
-Naturalizations in Washington County
-Schools in the "Dane Area" of Washington County (from 1908 plat?)
-History Extracts from Pilot Tribune and other sources
-Baptisms performed by P S Vig in Herman and Lyons
-List of history articles about Blair and Washington County
LOCAL NEWSPAPER EXTRACTS
These are arranged by newspaper and date of publication. They are not indexed otherwise.
-Courier 1868-1907
-Courier 1889-1906
-Democrat 1905-1909
-Kennard Enterprise 1912-1917
-Pilot-Tribune 1876-1901
-Pilot-Tribune 1901-1913
-Pilot-Tribune 1913-1920
-Pilot-Tribune 1923-1928
-Pilot-Tribune 1920-1927
-Pilot-Tribune 1929-1936
-Pilot-Tribune 1936-1941
-Pilot-Tribune 1941-1946
-Pilot-Tribune 1947-1951
-Pilot-Tribune 1951-1955
-Pilot-Tribune 1955-1958
-Pilot-Tribune - Misc 1950s to 1970s
-Pilot-Tribune Enterprise 1958-1961
-Pilot-Tribune Lists of Pioneers & Old Settlers (various dates)
-Pilot-Tribune Pioneers and Old Settlers deaths, 1916-1938
-Times and Republican 1872-1905
-Tribune and Democrat 1915-1918 1905-1909
-Burials outside Washington County - chronological by newspaper
UNLABELED DOCUMENTS
These documents consist largely of first notes from which much of the above were drawn.They can be paged through but most are not labeled at this time.
-Admah – Misc Danish Families
-Spiker Vacoma and Orum Stores (newspaper articles)
-Danish Brotherhood Society
-Washington County Citizens listed in Men And Women of Nebraska (1903)
-Blair School Census 1885 and 1889 (Danes)
-Good Shepherd Home residents circa 1959
-Obituary Index for Pilot-Tribune, 1929-1950
-Argo-Admah Cemetery Notes
-Old deaths not Blair Cemetery from Old Files
-Businesses and Buildings-Blair from newspapers 1870s to 1930s
List of Vig items sent to the Nebraska State Archives